The 5 Best Ways to Celebrate National Black Dog Day
Did you know that people are less likely to adopt black dogs from shelters because of their color? This phenomenon persists regardless of a particular dog's breed, general behavior, size, personality, or age, and it results in far too many good dogs never finding their forever homes.
Celebrated each year on October 1st, National Black Dog Day seeks to make this all-too-common problem a thing of the past. This event encourages the adoption of black dogs, and it's a great time to consider opening up your home — and your heart — to a darker-colored companion who needs a home.
Even if you can't adopt a dog right now, though, there are still things you can do to commemorate this important event. Keep reading to discover a few of the best ways to celebrate National Black Dog Day!
1. Adopt a Black Dog
The challenge that black dogs face in finding homes is so common that it has a name: Black Dog Syndrome. While black cats are more commonly associated with superstition, negative portrayals of black dogs in the media have also created harmful stigmas for them. Plus, black dogs' features don't stand out as well in online photos, and dark-colored dogs tend to blend into the shadows of kennels.
If you have room in your home, adopting a black dog is, by far, the best way to celebrate this holiday. In doing so, you'll be giving a deserving dog a much-needed shot at a happy, comfortable life in a loving home.
2. Volunteer at a Local Shelter
If adopting a dog isn't an option, spend some time with the dogs at your local shelter. Let workers know that you would like to spend some time walking or playing with the black dogs currently in their care. Even if you can't bring them home with you, you can give them a great day!
You may be able to help out in other ways, too. Since potential adopters are more likely to overlook black dogs in online listings, taking good photos is essential. If you have a good camera and solid photography skills, offer to take quality photos of darker-colored residents for the shelter to use in online posts. Having black dogs wear brightly colored handkerchiefs/collars for their photoshoot will help emphasize their beautiful features. Taking the time to capture images showing a dog's personality makes a huge difference in finding them a loving home.
3. Make a Donation
Most shelters and rescue organizations rely on donations to keep their doors open. Donate money or dog food to your local shelter, or find an organization specializing in finding homes for black dogs. Either way, your contribution will be greatly appreciated and used to help canines in need.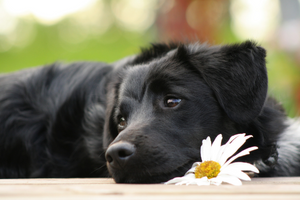 4. Educate Others About Black Dog Syndrome
Use National Black Dog Day as an opportunity to educate other people about Black Dog Syndrome and the challenges black dogs face in finding homes.
Share these facts with your friends and loved ones to promote National Black Dog Day:
It's harder to find homes for black dogs because they are subconsciously associated with aggressive behavior or danger.
Black dogs' facial features are more difficult to distinguish, which hides their personalities and makes it harder to connect with potential adopters.
While black isn't the most common dog color, black dogs are often perceived as "ordinary," and people often choose dogs with flashier appearances.
Because black dogs are difficult to photograph, people are not as likely to adopt them based on photos alone.
5. Share Some of the Great Things About Black Dogs
If you'd rather take a more positive approach, consider sharing some awesome facts about black dogs and the reasons why every animal lover should adopt one. And if you already have a black dog or have shared your life with one, you can likely come up with lots of stories about what makes them such fantastic companions.
Some great reasons to consider adopting a black dog include:
Black dogs are just as loyal and loving as dogs of any other color.
They have a mysterious quality about them.
Black fur hides dirt well, which is beneficial when you've been too busy for that dog bath or grooming session!
They look fantastic in snowy pictures. The contrast between their fur and the snow is incredible!
A black dog is a perfect accessory for any outfit. They go with anything!
They're fantastic snuggle buddies.
There are plenty of black dogs to choose from in shelters.
Closing Thoughts
Whether you add a new canine companion to your family, donate time or money to a shelter, or share information to help black dogs find homes, National Black Dog Day is an excellent opportunity to do something good for man's best friend.
As veterinarians, we're here to help you give your dog an amazing life. Whether they are black or another color, we'd love to have them as a patient. Contact us today to schedule a wellness appointment for your canine companion.